Achieve a red carpet youthful complexion with pure 24K gold flecks. A lightweight, hydrating primer that gives a lifting effect. Skin is makeup ready for a long-lasting, satin-soft and radiant finish.
Net Wt. 1.01 fl. oz. / 30 ml
Customer Reviews
Write a Review
Ask a Question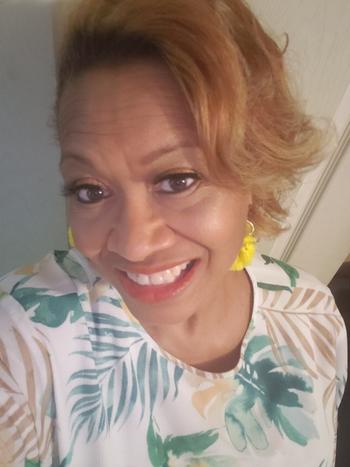 08/03/2021
I recommend this product
24K Gold
Awesome and very well please!!!
Patricia H.

United States
08/02/2021
I recommend this product
24 K magic in a bottle
Love both the primer and the oil I use the primer oil at night and my skin is moisturized and ready for the next day-even after I wash my face! I learned about the primer from Ms. Sandra on Fbk live Chatting to this BEAT! The primer is amazing!!! My foundation stays true all day, dewy with no creasing. I will buy both products again and again.
brenda

United States
12/21/2021
I recommend this product
24k Gold face primer
Its top of the line if you are seeking moisture. I live in dry, work in dry and have dry skin. Its excellent for many reasons. Its made in Germany where they use top ingredients and test them for quality. They don't rip off the public with high prices and neither does NICKAK. Huge thanks for that too!!!! I'm very impressed with this company. I'm an esthetician and I study products and their ingredients.The 1st four ingredients are natural and hydrating. The 3rd ingredient I wasn't familiar with...Trehalose which is rehydrating and water binding. If you use a hydrating spray during the day, trehalose will help bind the moisture to it and soften lines and wrinkles. I had to have more. The price was excellent. Thank you!!
Denise

United States
12/09/2021
I recommend this product
The glow
Not only does this 24K primer get my face ready for any makeup I might apply but also gives a beautiful hydrated effect. Sometimes I don't even apply makeup but I definitely apply this primer either way just because the dewy glow it gives. Very moisturizing.
Beth F.

United States
11/21/2021
I recommend this product
A MUST BUY/Have
Biko (pls) buy this product and thank me later. I was a toy boy so really don't know much about make up but when I came across this primer, it was a jackpot. It is magical to liquid foundations/ powder. Sometimes I use it own it's own and it gives my face this golden glow. My # 1 primer and face beauty anytime.
DoNkily

United States